Whether you are a a budding writer, radio show host, photographer or cartoonist, theSOP wants you on board!
OVERVIEW:
Founded by Judyth Piazza, the Student Operated Press is a cutting edge news organization that's intention is to provide novice writers and student journalist with the opportunity to showcase their talents while practicing ethical journalism in an environment that rivals all major media outlets.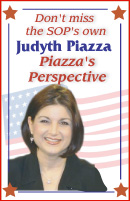 theSOP.org provides a platform in which students are able to create a story, have it edited by their colleagues as well as proven media professionals such as George Curry, Editor-in-chief, National Newspaper Publishers Association News Service and BlackPressUSA.com, Robin Meade, CNN and Laurie Dhue, FOX news to be published in the real world. In addition, this foundation will offer multiple online broadcasting opportunities and scholarships.
PROCESS:
Register for a free Thesop.org account

Create a personal portfolio

Begin contributing written articles -- or audio or video reports

TARGET AUDIENCE:
Middle school

High school

College students

PURPOSE:
Improve student writing skills

Prepare youth to become journalists

Provide a forum to showcase student writing talent

Improve written communications in corporate America

Place 20,000 students in media related careers around the world!
theSOP.org helps students
become better writers!


Learn more