How to Get Publicity in Your Town

Thank you for your participation in this exciting event. News about young people who are participating in global learning projects on the Internet is exciting stuff! It's important that our students have the opportunity to learn about technology in as many positive ways as we can provide and it is very valuable for youth to be ambassadors for their projects. Tackling a community-based learning project at your school or organization presents a perfect opportunity for you to seek positive publicity in your local area.
This section is provided to give you some basic steps to achieve the recognition you deserve. Please don't be concerned if you have not done this before. Newspapers, radio programs and TV news in your area will want to report about local events with national and international connections.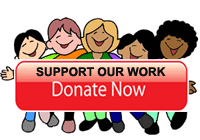 Good luck with your media exposure endeavors. We would love to receive copies of your news articles, videos, or radio interviews. Please email us the links to the stories, or send us hard copies to:
CyberFair - Global SchoolNet
270 N. El Camino Real, Suite 395
Encinitas, California 92024
To help you get as much media exposure as possible, we offer you the following tools.
Participant Banner to Display on Your Website:
To be considered for awards, participants must download and display the following CyberFair banner on their school or organization websites.

Please link back to www.globalschoolnet.org/gsncf/
How To Contact The Media Checklist:
This is a list of ideas to help you get the attention of your local media and interest them in writing a story about your project. It is meant to be general and some points may not apply in your individual area. Learn More


Press Advisory Template:
If you are planning an event such as having a local leader visit your classroom for a demonstration, or taking your students on field trip to demonstrate their skills to a community group, you should send a notice to the press in advance so that they can plan on attending and writing a story about your event. Attached is a "fill in the blanks" template for you to use in composing your press advisory. Learn More


Press Release Template:
A press release is a document that lets the media know the facts about an event that has already taken place. You should send out a Press Release after your event has happened to try and interest the media in writing a story about your project. Learn More


---
If you need additional information or have questions please contact us 760-635-0001, Or